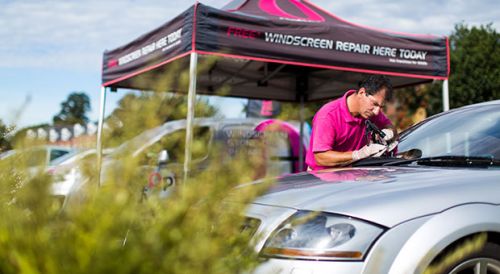 featured
How to find the right windscreen repair service for chips and cracks
26 October 2018
Pesky chips and cracks on a windscreen can be the bane of a driver's life. While it's tempting to eschew car window repairs for a DIY kit (or simply leave them and hope for the best), it won't do you any favours.
You'll soon get rid of the headache when you realise you could get it for free, too. Plenty of car owners with comprehensive insurance cover can get serviced windscreens covered. That way, insurers won't have to splash out on a heftier bill if it reaches replacement window territory.
Windscreens are far more important that we might originally think - providing both a crystal clear view of the road ahead, playing a crucial part of your car's structural strength and giving support to your airbag. We've listed more than a handful of reasons why you should get a windscreen chip repaired, so here's how to find the right company for the job.
What kind of company is best for car window repairs?
Our cars are one of our most expensive investments, so finding a reputable windscreen repair service, UK-based, is imperative. If it's an emergency, it's even more important that you source a professional, safe local glass repair company to handle to job with a quick turnaround. Search for 'chip repair near me' and you'll find a range of local glass repair companies as well as bigger windscreen repair franchise businesses. These are the services you should look out for if you want a simple, stress-free, affordable repair:
Five features of the perfect windscreen repair franchise
1. Short time window
No one wants to hang around waiting for hours to get car window repairs sorted - unable to do anything because your vehicle is off the road. You need a quick, thorough job so that you can continue with your day. Any reputable windscreen repair company should be able to fix your windscreen in around 20 minutes (better than the hours it takes for a replacement). The quickest way to get a repair turnaround is to search for 'car window repair near me' - a professional local glass repair company close in proximity means you don't have to travel far for the repair. You'll find us in over 300 supermarket and DIY store car parks across the UK, so you can get your shopping done and by the time you're done, your windscreen will be sparkling again.
2. Lifetime warranty
We take windscreens seriously. If a dodgy crack or pesky chip isn't properly repaired, it can lead to a costly and potentially dangerous situation. Any windscreen chip repair service or local glass repair business worth their salt will offer you warranty for as long as you own the vehicle.
3. Upfront costs
If it's not annoying enough that you're dealing with a chip that wasn't your fault, you have to pay for it. Car window repair cost varies from company to company, so it helps to get a quote beforehand to know where you are with your budget. Most of the time, choosing a local glass repair company will be cheaper than a windscreen repair franchise. At Optic-Kleer, our car window repairs start from as little as £48. Check with your insurer first - many allow you to get the chip repaired under a car insurance claim, meaning you won't have to pay a penny. You'll also save money in the long run by preventing the chip turning into a crack.
4. Guaranteed repair
If you know your chipped windscreen isn't overtly damaged, local glass repair companies that only fill in chips are your best bet. That's because the staff won't push you into services you don't need, such as replacement. Our approachable and welcoming team have years of experience in car window repairs, using innovative technology for a guaranteed fix. If we know it can be repaired, we'll repair it. The equipment we use gives your windscreen its strength back - good as new - and we service hundreds of stone chip problems every week, so you're assured quality. Make sure credibility, trustworthiness and genuine expertise are all part of the package you pay for. You shouldn't expect anything less.
5. Insurance correspondence
When you're juggling day-to-day tasks, finding the time to deal with a claim can be headache-inducing. Look for windscreen chip repair franchise and local glass repair companies that offer insurer-approved repairs. You simply need to give the repairer your insurance details and they'll deal with all the paperwork on your behalf. Read more about car insurance and windscreen repair in our guide and get in touch to see what makes our expert repairers the ideal choice for your chipped vehicle.