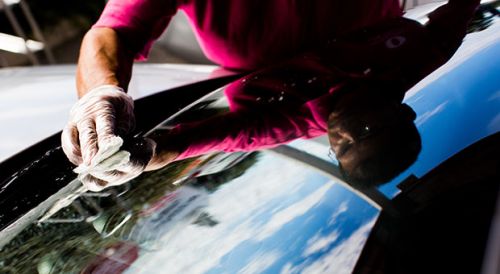 featured
How to clean your windscreen (and why you should do it)
17 January 2019
"How do I fix my windscreen up so it's nice and sparkling, inside and out?". Ask any dad or grandad that question and chances are they'll tell you the good old-fashioned method: vinegar and newspaper.
We're not saying retro solutions are rubbish, but they require a little more elbow grease and time than fresher alternatives. And they certainly don't guarantee a streak-free clean. Modern newspapers also use water-based inks which will give your hands a layer of black smudge.
As trained and experienced technicians, we fix car windscreen problems daily - and have done for 25 years, so we know a thing or two on keeping them spotless. Here's why it's important to keep your windscreen free from dirt and marks - and how to do it in the most efficient way possible.
Why keep your windscreen clean?

Improve vision on the road
Low-lying sunshine combined with mucky windscreens makes it difficult to see the road in that rush-hour drive home. Add dust particle build-up, bug-gut smudges, tree sap and greasy road-related smears and you've got the perfect combination for a road accident in the making. Simply put, driving with a dirty windscreen is dangerous.

Avoid glass repair service fees
Some windscreen chips are so small they can easily go unnoticed. Cleaning and examining your windscreen regularly can help unnecessary glass repair service jobs in the long-run. The sooner you fix car windscreen chips, the less likely they are to grow in size and cause more expensive damage (like cracks) to your windows.

Clean your car windscreen in these seven easy steps
No need to cancel your entire Sunday schedule, cleaning your car windscreen only takes about half an hour out of your day. Fix car windscreen grime and you'll not just make driving safer, you'll save you time and money on glass repair service jobs that may arise unexpectedly. Here's how easy it is...
What you'll need:
Pack of soft, non-abrasive microfibre cloths
Car glass cleaner. (Screen Clean by CarPlan came top in the Auto Express best car glass cleaners of 2018 roundup, but non-smear household cleaners work fine as well).
Hose (or bucket of clean water)
Bug-shifter sponge (optional)
How to do it:
1. Begin with your interior glass, wiping the windscreen with a dry microfibre cloth to get rid of any dust particles that have built up inside the car. You'll be surprised how much grime appears on that cloth!
2. Spray the interior glass with your windscreen cleaner of choice.
3. Wipe the outer edges of the windscreen with the clean side of the cloth (if it's too dirty use a new cloth entirely).
4. Move on to the rest of the windscreen, spraying the larger area again and wiping up and down, then side to side, with the microfibre cloth. Use a clean cloth to get rid of any streaks.
5. Time to clean your external glass. If you have any bug guts or stickier residues that are hard to remove, bug-shifter sponges can work wonders (without being to abrasive). As with the interior, wipe the windscreen once over with your cloth to get rid of excess dirt. Then spray the outside of your windscreen with the car windscreen cleaner and wipe up and down, then side to side.
6. Using a hose or bucket, rinse the windscreen (starting from the top) with clean water to get wash away any remaining dirt.
7. Finally, dry the windscreen completely by rubbing it with a dry microfibre cloth.
What happens if I need to fix my windscreen due to chips?
Chips happen - and no amount of cleaning can solve the problem. Not taking your car to a glass repair service as soon as you can will potentially work out pricier later on, so if you're scrubbing away and notice a pesky bit of debris has hit - act. The tiniest chip can lead to a crack and before you know it, you're paying for an entire windscreen replacement.
We mostly fix car windscreen chips from supermarkets around the UK, so you can get your food shop done while we work to save time. You can guarantee a full professional repair - and usually, a free repair, depending on your insurer (who we'll also deal with for you). Simply type your postcode and vehicle reg into our handy locator to find a glass repair service near you.