Windscreen
Repair
Banbury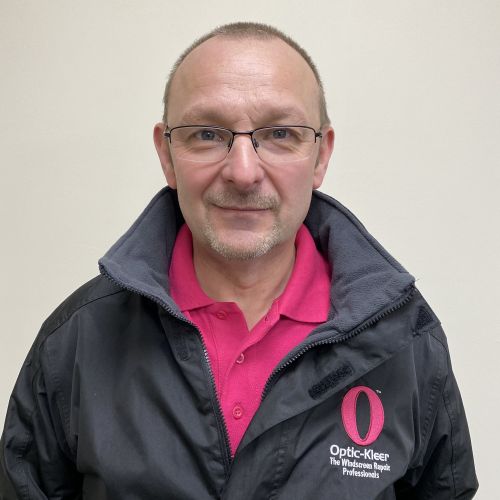 Julian Rolfe,
Optic-Kleer Operator
For windscreen repair at Witney, Banbury, Brackley, Bicester, Oxford, and Kidlington, please search to see my diary
B & Q Witney

Thornton Leys Park, Ducklington,
Witney,
OX28 4GF

B & Q Banbury

Marley Way,
Banbury,
OX16 2RL

Sainsbury's Banbury

Oxford Road,
Banbury,
OX16 9XA

Sainsbury's Brackley

Wellington Road,
Brackley,
NN13 6RE

Sainsbury's Bicester

Pioneer Square, Bure Place,
Bure Place, Bicester,
OX26 6FA

Sainsbury's Witney

Witan Way ,
Witney,
OX28 4FF

Sainsbury's Oxford

Hayford Hill, Littlemore,
Oxford,
OX4 4XR

Sainsbury's Kidlington

289 Oxford Road,
Kidlington,
OX5 2PE
Hello, my name is Julian.
Hi. I'm Julian and I carry out windscreen chip repairs around Banbury, Brackley, Bicester, Witney and Stow-on-the-Wold.
As I mainly work in retail car parks, usually Sainsbury's, at different locations each week, it is really convenient as you can have your windscreen repaired whilst you shop. Please enter your postcode and car registration details into the search below to find out where I'm working and then you can come and see me, and I'll be happy to carry out your car windscreen repair.
You have the choice to pay for your car glass repair or claim through your insurance as most car insurances cover the cost of stone chip repair. Either way your window screen repair is covered by our lifetime warranty.
The sooner you have your windscreen chip repaired the better as if the chip turns into a crack, you will require a replacement windscreen, which is a lot more expensive.
I can do windscreen repairs on all makes and models of car, regardless of whether it's a heated windscreen or a non heated windscreen.
Drop in to see me. Use the
search
below to find out where I'll be.
Find your nearest
windscreen repair location
Use Optic-Kleer for your windscreen repair
Reliable

Our trained operators repair your windscreen while you shop.

Great Value

A windscreen repair is cheaper than the excess for a windscreen replacement. However, you're welcome to use your insurance, where your excess can be as little as £10.

Convenient

Over 300 locations nationwide with a repair taking as little as 20 minutes to complete.
Learn more
Lifetime warranty
Your Optic-Kleer® Warranty covers your windscreen chip repair for as long as you own the vehicle.
You no longer need to validate your repair online. Your invoice is sufficient proof should you ever need to make a claim.
Learn more