Windscreen
Repair
Bracknell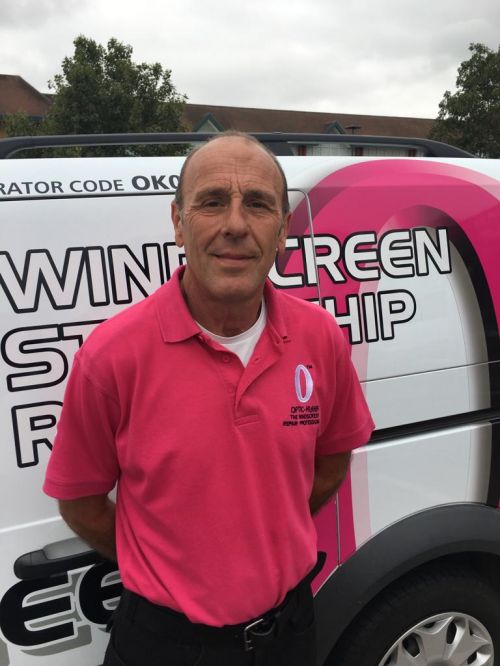 Paul Looker,
Optic-Kleer Operator
For windscreen repair at Reading, Bracknell, Winnersh, Slough, Basingstoke, and Tadley, please search to see my diary
Morrisons Reading

Basingstoke Road,
Reading,
RG2 0HB

Homebase Bracknell

Homebase, Wokingham Road,
Bracknell,
RG42 1NB

Sainsbury's Bracknell

Ringmead,
Bracknell,
RG12 7SS

Sainsbury's Winnersh

Kings Street Lane ,
Winnersh,
RG41 5AR

Sainsbury's Slough

Uxbridge Road,
Slough,
SL1 1SU

Sainsbury's Basingstoke

3 Wallop Drive,
Basingstoke,
RG22 4TW

Sainsbury's Calcot

Bath Road,
Calcot, Reading,
RG31 7SA

Sainsbury's Tadley

30A Mulfords Hill,
Tadley,
RG26 3JE
Hello, my name is Paul.
Hi, I'm Paul and I have been a windscreen chip repair technician with Optic-Kleer for over 5 years. I have seen all types of windscreen problems on a range of different vehicles. I have carried out many stone chip repairs from a heated front screen in a Ford to a classic car windscreen.
I am mobile and work around parts of Berkshire and Oxfordshire so you can find me doing car glass repairs mainly in Bracknell, Reading, Wokingham and Henley-on-Thames. I occasionally will do home visits but mainly I carry out the windscreen chip repair in a Sainsbury's or Homebase car park.
You can easily look at my diary to find out where I will be working by filling out your postcode and registration details on this page. If you have any queries regarding windscreen repair please do not hesitate to contact me.
The process is quick and easy and can be done whilst you are shopping.
In most cases, your insurance company will cover the cost of the car windscreen repair. Whether it's a windscreen chip repair you need for your MOT or damage in your windscreen that you want to repair before it gets worse, then I can help. There is no need for you to contact your insurance company as we will deal with them on your behalf.
If you don't have insurance for your window screen repair then don't worry as we can still carry out your car windscreen repair at a small cost.
Remember Optic-Kleer carries out windscreen repairs, not windscreen replacements which then allows you to retain the original windscreen in your car with the factory seal intact.
Drop in to see me. Use the
search
below to find out where I'll be.
Find your nearest
windscreen repair location
Use Optic-Kleer for your windscreen repair
Reliable

Our trained operators repair your windscreen while you shop.

Great Value

A windscreen repair is cheaper than the excess for a windscreen replacement. However, you're welcome to use your insurance, where your excess can be as little as £10.

Convenient

Over 300 locations nationwide with a repair taking as little as 20 minutes to complete.
Learn more
Lifetime warranty
Your Optic-Kleer® Warranty covers your windscreen chip repair for as long as you own the vehicle.
You no longer need to validate your repair online. Your invoice is sufficient proof should you ever need to make a claim.
Learn more