Our operators continue to provide windscreen repair during these challenging times. For a repair, please telephone your local operator who can be found using the search below.
Read more
Car Windscreen Chip Repair
Find your nearest
windscreen repair location
Top 5 reasons
...why you should choose Optic-Kleer for your windscreen repair.
Reliable

Our operators are highly trained technicians who use the latest windscreen repair technology for a guaranteed repair.

Convenient

We have 300 locations across the UK. Our trained operators will repair your windscreen while you shop!

Great value

We can repair your windscreen from as little as £48.00. Depending on who your insurer is we could repair your windscreen for FREE!

Lifetime warranty

Your Optic-Kleer warranty covers your chip repair for as long as you own the vehicle.

Stress free

We handle all correspondence with your insurer so your claim runs smoothly.
Find your nearest
windscreen repair location
Help, I've got a chipped windscreen - can you do car windscreen repairs?
Yes, we repair chipped windscreens
While you shop
Our windscreen repairs are guaranteed
And usually it is a FREE Windscreen repair*

Don't worry – every week we carry out hundreds of windscreen repairs for stone chips. By using the very latest and best equipment we put the strength back into your windscreen leaving it almost as good as new. Our windscreen repairs are suitable for any make or model of car or van.
Thousands of customers already trust Optic-Kleer® with their windscreen repairs. Use our search facility to find a windscreen repair technician near you.

Windscreen repairs while you shop
We mostly work from supermarkets and will usually repair your chipped windscreen while you shop, saving you valuable time.
*Most insurance policies cover windscreen repairs so it probably won't cost you a penny. We'll take care of the insurance paperwork too.
Our trained and experienced windscreen repair technicians will fix a stone chip while you wait or while you shop at your local supermarket. If your motor insurance covers windscreen damage it probably won't cost you a penny*. Also, because Optic-Kleer® don't replace windscreens we won't push you into a replacement that you don't need. If your windscreen can be repaired we'll repair it.

What's wrong with a stone chip in the windscreen?
If you've found a stone chip in your car windscreen you need to fix it as soon as possible. A windscreen chip left alone can quickly become a cracked windscreen which can't be repaired but will need replacing instead.

Windscreen chips can cause your vehicle to fail an MOT
Even a small stone chip can reduce your vision while driving
A chipped windscreen that can be repaired can quickly become a crack needing replacement instead
A windscreen chip reduces the structural safety of your car

These are all reasons why it's important to get your windscreen chip repaired as soon as you see it. The size of damage that can be repaired depends on where it is on the screen – see the diagram below:

Looking at your windscreen from in front of your car: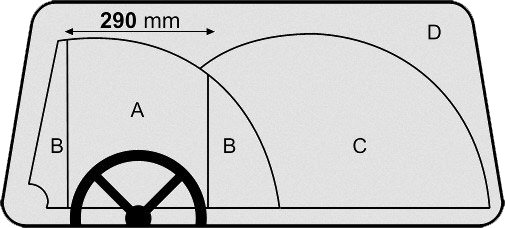 Zone A Damage up to 10mm
Zone B Damage up to 15mm
Zone C Damage up to 25mm
Zone D Damage up to 40mm

Why choose Optic-Kleer® for my windscreen repair?
We've already carried out thousands of windscreen repairs in our 25 years, with every repair guaranteed. When we've repaired your windscreen, you will have Lifetime Warranty - valid for as long as you own the vehicle.
We've got thousands of satisfied customers both here in the UK and in the USA. We're already one of the best recognised and trusted windscreen chip repair companies in the UK and we're still growing.

Our promise to you
We don't do replacement windscreens so if it can be repaired we'll repair it.
We'll never recommend a costly replacement window unless it's really needed.
Every windscreen repair we carry out carries our reputation.
Find your nearest
windscreen repair location