Windscreen
Repair
Hemel Hempstead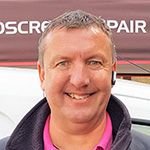 Rob Beard,
Optic-Kleer Operator
For windscreen repair at High Wycombe, Watford, Taplow, Beaconsfield, Chesham, high Wycombe, Aylesbury, and Hemel Hempstead, please search to see my diary
Morrisons High Wycombe

Bellfield Road,
High Wycombe,
HP13 5XX

Sainsbury's Dome Roundabout

North Western Avenue,
Watford,
WD25 9JS

Sainsbury's Taplow

Lake End Road,
Taplow,
SL6 0QH

Sainsbury's Beaconsfield

Maxwell Road,
Beaconsfield,
HP9 1QH

Sainsbury's Watford

Albert Road S,
Watford,
WD17 1PE

Sainsbury's Chesham

Elgiva Lane,
Chesham,
HP5 2YA

B & Q High Wycombe

London Road,
high Wycombe,
HP11 1EZ

Morrisons Watford

Ascot Road,
Watford,
WD18 8AA

Sainsbury's Aylesbury

90 Gatehouse Road,
Aylesbury,
HP19 8ED

Sainsbury's Hemel Hempstead

London Road,
Hemel Hempstead,
HP3 9QZ
Hello, my name is Rob.
Hello, my name is Rob Beard and I have been operating my Optic-Kleer windscreen chip repair franchise since 2009.
I live in South Buckinghamshire and operate within an area which includes Aylesbury, Tring, Hemel Hempstead, Watford, Rickmansworth, Uxbridge, Beaconsfield, High Wycombe, Amersham and Chesham. The majority of my business comes from working with some of the largest supermarkets in the UK..namely Sainsbury's and Morrisons, as well as some retail parks near to B & Q, Halfords and Homebase.
To find out where you can get your windscreen repaired in South Buckinghamshire, simply provide your postcode and vehicle registration number in our easy to use search. You will then see my diary and contact details and you can get a reminder when I will next be visiting your local supermarket, together with my contact details.
These relationships give my customers the flexibility and peace of mind that work can be carried out in a convenient location without delay, something which some of the larger window screen repair companies are not always able to offer. It is worth noting that many windscreen chip repairs can be done which the larger glass companies will not undertake.
The cost of having your car windscreen repaired can be covered by your insurance policy at no cost to you (some will apply a nominal repair excess) - Optic-Kleer work alongside 99% of all UK Insurance Companies ...so please get in touch and we can tell you whether your insurer will cover the cost of your windscreen repair. Good impartial advice followed up by quality and professional work is the nature of our business.
Don't worry if your motor insurance policy doesn't cover you for stone chip repairs, I can still carry out a windscreen chip repair, which will be quick and at a small cost to you.
We also offer a lifetime warranty (subject to the vehicle remaining in your ownership) with all windscreen stone chip repairs carried out on your car or van and repairs can be done on heated windscreens as well.
Having your car glass repaired will also avoid a costly replacement. A windscreen replacement can very often result in water leakage and wind noise as, once the seals are broken, it can cause unnecessary problems.
Drop in to see me. Use the
search
below to find out where I'll be.
Find your nearest
windscreen repair location
Use Optic-Kleer for your windscreen repair
Reliable

Our trained operators repair your windscreen while you shop.

Great Value

A windscreen repair is cheaper than the excess for a windscreen replacement. However, you're welcome to use your insurance, where your excess can be as little as £10.

Convenient

Over 300 locations nationwide with a repair taking as little as 20 minutes to complete.
Learn more
Lifetime warranty
Your Optic-Kleer® Warranty covers your windscreen chip repair for as long as you own the vehicle.
You no longer need to validate your repair online. Your invoice is sufficient proof should you ever need to make a claim.
Learn more