Windscreen
Repair
Norwich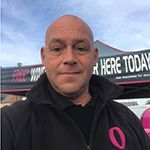 Mike Chambers,
Optic-Kleer Operator
For windscreen repair at Norfolk, Norwich, Dereham, Beccles, and Attleborough, please search to see my diary
Waitrose Norwich

Eaton Centre, Church Lane,
Norwich, Norfolk,
NR4 6NU

Morrisons Norwich

Albion Way,
Norwich,
NR1 1WU

Morrisons Dereham

Station Road,
Dereham,
NR19 1DF

Morrisons Beccles

George Westwood Way,
Beccles,
NR34 9EJ

Sainsbury's Attleborough

High Street,
Attleborough,
NR17 2EH

Sainsbury's Norwich

William Frost Way, Costessey,
Costessey, Norwich,
NR5 0JS

Sainsbury's Norwich

Queens Road, 1 Brazen Gate,
1 Brazen Gate, Norwich,
NR1 3RX

Sainsbury's Norwich

Pound Lane,
Norwich,
NR7 0SR
Hello, my name is Mike.
Hi, my name is Mike and I've been working as a windscreen repair technician with Optic-Kleer for over 15 years.
You will normally find me doing window screen repairs in and around the Norwich, Beccles and Dereham areas, mainly in Sainsbury's and Morrisons.
However, I'm always available if you need me to do a home visit as it's important to get your windscreen repaired. To find out where I'm working next in your area, simply provide your postcode and registration number in the easy to use search and you'll see my diary and contact details.
There is always the danger that a small stone chip can develop into a cracked windscreen, then you're into a situation where you will need to replace the whole windscreen and this is something that could quite easily be avoided.
The cost of the windscreen chip repair is usually part of the premium you paid for your insurance. Some insurance policies may carry a small excess charge. If your insurance policy does not cover glass repair, don't worry, it doesn't take long to repair your windscreen and with an Optic-Kleer car windscreen repair, the cost won't break your bank.
Optic-Kleer takes windscreen chip repairs very seriously and we only use the best windscreen repair equipment and resins available.
All of our stone chip repairs have a lifetime guarantee as long as you own the vehicle so whether you want me to repair the chip on your VW Golf or Mercedes-Benz windscreen, let the car windscreen repair professionals look after you.
Drop in to see me. Use the
search
below to find out where I'll be.
Find your nearest
windscreen repair location
Use Optic-Kleer for your windscreen repair
Reliable

Our trained operators repair your windscreen while you shop.

Great Value

A windscreen repair is cheaper than the excess for a windscreen replacement. However, you're welcome to use your insurance, where your excess can be as little as £10.

Convenient

Over 300 locations nationwide with a repair taking as little as 20 minutes to complete.
Learn more
Lifetime warranty
Your Optic-Kleer® Warranty covers your windscreen chip repair for as long as you own the vehicle.
You no longer need to validate your repair online. Your invoice is sufficient proof should you ever need to make a claim.
Learn more