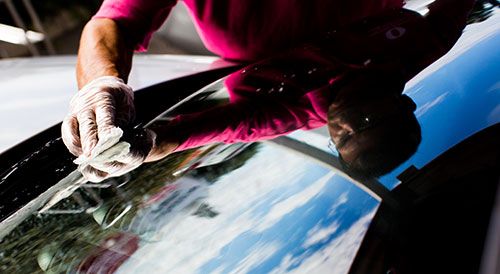 featured
How to avoid charges for chipped windscreens on rental cars
27 November 2018
Picture the scene. You've booked a fortnight off work, hired out a stunning rental car and are meandering through country lanes on a delightful little road trip. As you're driving, a car overtakes you and flicks up a stone. Hello chipped windscreen.
Those annoying accidents are never something you'd welcome - but they're even more cumbersome when it happens to a car you don't own. The price of renting a car will often include cover for major crashes, but you'll be billed for the first £500 to £1,000. Small damages such as a chipped windscreen, however, will have to be paid for in full.
Whether you're driving abroad or renting a car in old Blighty, nothing quite dampens a holiday like excess charges. There are stories galore from drivers who've been taken for a ride with OTT fines from car hire companies - these handy tips will help you avoid being overcharged and potentially ripped off.
1. Arrange your own insurance cover
Returning a car with a chipped windscreen to a major international rental company will usually result in a fine, especially if you've not taken out insurance to reduce the collision damage waiver (CDW) to zero. Car hire companies will push you to buy this CDW, which covers excess of around £500-£1,000, including the cost to fix cracked windscreen fittings. But there's a cheaper way to get covered - and that's by arranging your own. You can save around £100 by swapping CDW insurance costs of up to £150 to around £30 for independent cover.
2. Check for damage before you drive
Before you leave, examine the car and take note of any exterior or interior damage, no matter how seemingly insignificant it may be. Take a video or snap digital photographs (so that dates are attached) as proof in case you're charged for any pre-existing damage. Do this on returning the car, too. If there's a restricted mileage policy, record the mileage first. Also make sure the fuel is full, if the car hire's policy limits usage. Creating a damage sheet is a good idea, checking everything from spare wheels to chipped windscreen fittings. Ask someone at the rental desk to sign it before you set off for a peace of mind and keep hold of any paperwork.
3. Repair the chipped windscreen before you return the car
Often, rental hire charges will be higher than the general cost to fix cracked windscreen fittings - you're looking at figures in the hundreds, as opposed to as little as £48. If you've arranged your own independent insurance cover, you might even be able to avoid the car windscreen crack repair cost altogether (depending on your insurer). Find a company that fixes chips speedily - if you're in the UK Optic-Kleer can turn around chipped windscreen repairs in as little as 20 minutes.
Don't miss out on valuable holiday time to get a chipped windscreen repaired. Drop into one of our 300 locations across the country and you can have the damage fixed while you shop, either by popping over to one of our stands and getting it done on the spot or booking a chipped windscreen repair on our website. Every car windscreen crack repair cost comes with a 100% repair guarantee - every job we carry out carries our reputation, so we'll never let you down.