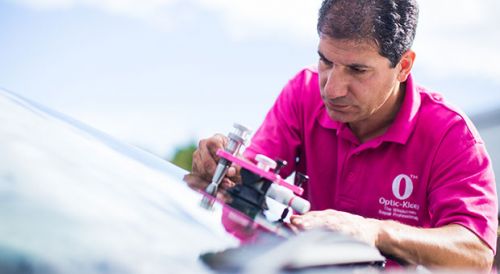 featured
Repair or replace? Best ways to fix a cracked windscreen
24 October 2018
The sound of debris bouncing off a windscreen is something no driver wants to hear. And when that unexpected thwack leaves a frustrating chip - or even worse, crack - it's time to figure out how to fix it.
There was a time when the best way to fix a cracked windscreen was to replace it - but smart technology means you can save time and money getting a windscreen repair instead. Optic-Kleer are the largest independent repair-only company in the UK, so we won't push you into any services you don't need. We won't advise a replacement unless it's absolutely necessary and in the best interest of you and your vehicle.
It's crucial that you find the best way to fix a cracked windscreen and safely sort the damage before the crack spreads. If all that's required is a quick and affordable windscreen repair, even better.
To repair or replace - how do I fix my windscreen crack?
If you're looking for a windscreen quote online, you'll find that replacements are a lot more expensive than windscreen stone chip repair cost estimations. Most of the time, your insurance policy covers windscreen repair, so you might not even have to spend a penny (and we'll even deal with the paperwork for you).
It goes without saying that the best way to fix a cracked windscreen is as soon as possible to prevent cracking and the need for replacement. But before you even request a windscreen quote, you can work out the best way to fix a cracked windscreen yourself. Simply stand in front of your car and look at your windscreen, using the diagram below as a reference: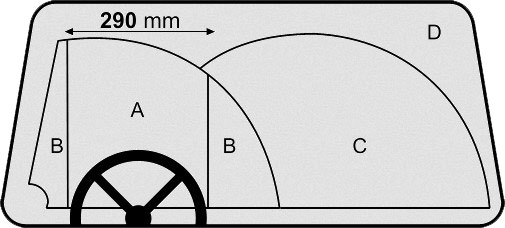 Size, severity and location of the chip can determine whether it can a windscreen repair can fix the problem. If the chip is in zone A, a chip up to 10mm in length can be repaired. In zone B, this can go up to 15mm. Windscreen repair can fix a crack of up to 25mm in zone C and up to 40mm in zone D, since these are both out of your direct vision of sight while driving.
Certain types of cracks simply can't be repaired - and we'll tell you if that's the case. Think about where the crack is located, how big the crack is and how deep it is. If a crack penetrates from the exterior through to the interior, it's too deep for a repair job. If the crack has spread following initial damage, you're probably going to have to get a new windscreen quote for a replacement.
Windscreen repair near you
Replacements aren't ideal, but sometimes they're necessary. If you can get sorted with just a windscreen repair, you need to choose a company you can trust to carry out the work to the highest standard.
Here at Optic-Kleer, we've already carried out thousands of repairs in our 25 years - with single repair guaranteed. Lifetime Warranty is included in your windscreen stone chip repair cost and is valid for as long as you own the vehicle.
We mainly work from supermarkets, so you can even get your repair done while you shop: search our 300 windscreen seal repair locations across the UK to see where your closest operators are.