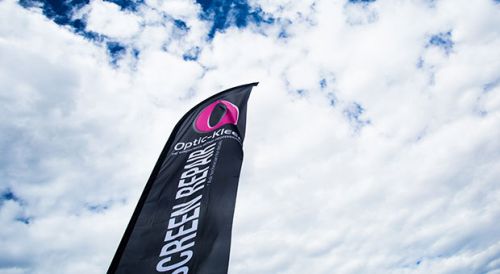 featured
Nine things you should keep in your car during winter
17 December 2018
The freezing temperatures that hit us in winter can make a simple thing such as a broken car window a much bigger problem. To prepare yourself for any eventuality from broken glass to a full breakdown, you need to carry a few things in your car.
Hi-vis jacket
This is something you should carry in your car all year round but it's all the more important during the winter. Firstly, the days are shorter so you're more likely to be on the road when it's dark. Secondly, the sun is very low in the sky during this time of year and that means a lot of glare for drivers on the road, so you need to do as much as you can to make yourself visible.
Warm clothing
There's the chance that you could be stuck waiting outside your vehicle if it breaks down. It's not safe to wait inside your car if you are on a motorway or busy road so make sure you have plenty of warm clothing in your car, so you can wait in warmth and safety.
It's also wise to carry a couple of blankets too as these can provide an extra layer if you are stuck outside.
Warning triangle
It's important to warn approaching cars that there's a broken-down vehicle ahead - no matter what time of the year it is. This is especially important if you've broken down in an awkward place such as on a corner.
Deicer
Deicer is great for clearing your windscreen and other windows at the start of a long journey but it's also important to carry some in your car during winter. This means you'll always be able to remove ice, even if it's in the middle of a journey.
In very cold conditions, windscreens, wipers and lights can start to ice up even when you're driving so make sure you have the tools to tackle this.
Ice scraper
An ice scraper is another important part of your emergency deicing kit. Make sure to keep one with you for when the temperatures really drop.
First aid kit
It's always better to be prepared, so keep a first aid kit with you in case you have an accident on the road.
Torch
Because it's dark for much of the day in winter, a torch is a must-have piece of equipment. Unfortunately, you can't always rely on your smartphone torch in these situations as battery life is greatly reduced in freezing temperatures. A good torch will help you to identify any problems with your car, or help you find a path away from the road to safety.
Portable charger
If you break down, are involved in a crash, or your windscreen cracks while you're driving, being able to call for help is important. You should keep a portable battery pack in your car so you can charge any ailing smartphones.
Water and snacks
Finally, keep some water and non-perishable snacks in your car. If you are stranded, you can stay hydrated and fed. Look for things like breakfast bars, jerky, dried fruit and nuts. These will keep your energy levels up and will help your body stay warm if you need to wait outside your car for help.
If you get peckish during a journey, make sure to replace anything you eat!
The best way to prevent any breakdowns or incidents on the road is to look after your car and drive to the road conditions. This means keeping on top of regular services, ensuring your windscreen washer reservoir is topped up, and getting any windscreen chips treated as soon as possible.
If you do have a stone chip and need car window screen repair, find your nearest Optic-Kleer location here.