Our operators continue to provide windscreen repair during these challenging times. For a repair, please telephone your local operator who can be found using the search below.
Read more
Windscreen
Repair
Stafford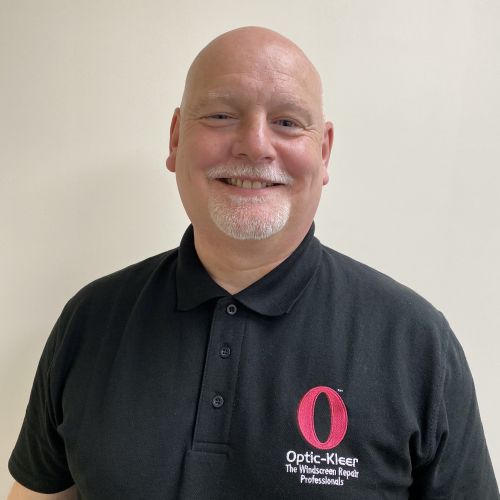 Rob Gough,
Optic-Kleer Operator
For windscreen repair at Stoke-on-Trent, Stoke on Trent, Stafford, Congleton, Hanley, Leek, and Newcastle-under-Lyme, please search to see my diary
Tesco Kidsgrove

Liverpool Road, Kidsgrove,

Stoke-on-Trent,

ST7 1DX

Tesco Longton

Baths Road, Longton,

Stoke on Trent,

ST3 2JB

Tesco Meir

Lysander Road, Meir,

Stoke-on-Trent,

ST3 7WB

Tesco Stafford

Newport Road,

Stafford,

ST16 2HE

Tesco Stoke-on-Trent

Newcastle Road,

Stoke-on-Trent,

ST4 6PL

Tesco Congleton

Barn Road,

Congleton,

CW12 1LR

Tesco Hanley

Clough Street,

Hanley,

ST1 4LS

Morrisons Leek

4 Newcastle Road,

Leek,

ST13 5SG

Morrisons Stoke

Festival park,

Stoke on Trent,

ST1 5NY

Morrisons

Goose Street,

Newcastle-under-Lyme,

ST5 3HY

Morrisons

Lower Milehouse Lane,

Newcastle-under-Lyme,

ST5 9AL

Sainsbury's Leek

Churnet Way,

Leek,

ST13 8YG
Hello, my name is Rob.
I am an Optic-Kleer windscreen repair professional based in Staffordshire, covering Stoke, Newcastle under Lyme, Leek, Congleton, Kidsgrove,Meir and our county town Stafford. I provide a convenient, and professional service repairing chipped windscreens. You will usually find me doing my windscreen chip repairs at retail locations such as Tesco and Morrisons.
The cost of your car windscreen repair is usually covered within your motor insurance policy, so don't delay, get your stone chip repaired today!
If repaired soon after the stone chip occurs, with our extensive training and experience, I can complete the job so optimal clarity can be achieved. If your policy doesn't cover windscreen chip repairs it's no problem, I can still complete the car windscreen repair for a small charge. Once I have completed your glass repair, you are provided with a lifetime windscreen warranty.
How do you find us for your windscreen chip repair? Simple, just provide your postcode, and vehicle registration number in our easy to use search. You will be able to check my diary, and the most convenient location for you to visit for your window screen repair and also my contact details.
Drop in to see me. Use the
search
below to find out where I'll be.
Find your nearest
windscreen repair location
Use Optic-Kleer for your windscreen repair
Reliable

Our trained operators repair your windscreen while you shop.

Great Value

Windscreen chip repair from as little as £48.00. Depending on who your insurer is we could repair your windscreen for FREE!

Convenient

Over 300 locations nationwide with a repair taking as little as 20 minutes to complete.
Learn more
Lifetime warranty
Your Optic-Kleer® Warranty covers your windscreen chip repair for as long as you own the vehicle.
You no longer need to validate your repair online. Your invoice is sufficient proof should you ever need to make a claim.
Learn more