Windscreen repair
Eastbourne & Hailsham.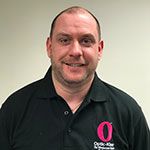 Richard Armstrong,
Optic-Kleer Operator
Hello, my name is Richard.
Hi, I'm Richard and I work as an Optic-Kleer car windscreen repair technician.
I carry out stone chip repairs to windscreens around Hampshire, Kent and West and East Sussex, together with my brother, Paul. The majority of my time is spent carrying out glass repairs in the car park of retail locations in and around Portsmouth, Chichester, Bognor Regis, Eastbourne and Horndean.
To find out where I will be located carrying out windscreen chip repairs, please enter your postcode and car registration details on this page. You will then also be able to see my contact details.
If you prefer, I can arrange the window screen repair at your home or work address, but most people find it more convenient to have the stone chip repair carried out at their local supermarket, whilst they shop.
The majority of windscreens can be repaired from a heated windscreen on a Ford Focus to a Porsche. The cost of the car windscreen repair is normally covered by your car insurance, but it is not a problem if you do not have insurance to cover a stone chip repair, it can still be done at a very reasonable price.
As Optic-Kleer specialises in window screen repairs not windscreen replacements, you will be able to retain the manufacturers original glass and seals and not have the expense of a car windscreen replacement, if it is not necessary.
Drop in to see me. Use the
search
below to find out where I'll be.
I mainly work at these locations. Use the search to see my diary
Morrisons Anchorage Road, Portsmouth

Anchorage Road,

Portsmouth,

PO3 5UH

Morrisons Bedford Street, Bognor Regis

Bedford Street,

Bognor Regis,

PO21 1RP

Morrisons Lakesmere Road, Waterlooville

Lakesmere Road, Horndean,

Waterlooville,

PO8 9FB

Tesco 21 Lottbrige Drove, Eastbourne

21 Lottbrige Drove, Eastbourne,

East Sussex,

BN23 6QD

Tesco Aisher Way, Sevenoaks

Aisher Way, Riverhead,

Sevenoaks,

TN13 2QS

Tesco Clement Attlee Way, Portsmouth

Clement Attlee Way,

Portsmouth,

PO6 4SR

Tesco Crasswell Street, Portsmouth

Crasswell Street, Portsmouth,

Hampshire,

PO1 1RS

Tesco Fishbourne Road East, Chichester

Fishbourne Road East,

Chichester,

PO19 3JT

Tesco Pembury Road, Tunbridge Wells

Pembury Road,

Tunbridge Wells,

TN2 4NE

Tesco Shripney Road, Bognor Regis

Shripney Road, Bognor Regis,

West Sussex,

PO22 9ND

Tesco Solent Road, Havant

Solent Road,

Havant,

PO9 1TR
Find your nearest
windscreen repair location
Use Optic-Kleer for your windscreen repair
Reliable

Our trained operators repair your windscreen while you shop.

Great Value

Windscreen chip repair from as little as £48.00. Depending on who your insurer is we could repair your windscreen for FREE!

Convenient

Over 300 locations nationwide with a repair taking as little as 20 minutes to complete.
Learn more
Lifetime warranty
Your Optic-Kleer® Warranty covers your windscreen chip repair for as long as you own the vehicle.
You no longer need to validate your repair online. Your invoice is sufficient proof should you ever need to make a claim.
Learn more