Our operators continue to provide windscreen repair during these challenging times. For a repair, please telephone your local operator who can be found using the search below.
Read more
Windscreen
Repair
Sevenoaks & Tunbridge Wells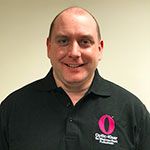 Paul Armstrong,
Optic-Kleer Operator
For windscreen repair at Kent and Tunbridge Wells, please search to see my diary
Tesco Aisher Way, Sevenoaks

Aisher Way, Riverhead,

Sevenoaks, Kent,

TN13 2QS

Tesco Tunbridge Wells

Tesco Stores Ltd, Pembury Road,

Tunbridge Wells,

TN2 4NE
Hello, my name is Paul.
Hi, I'm Paul and together with my brother, Richard, we work as windscreen repair technicians with Optic-Kleer around Kent, West Sussex and East Sussex.
You can mainly find me in many major supermarket locations including Sevenoaks and Tunbridge Wells. To see where I will be working, please enter your postcode and car registrations. Here you will also see my contact details.
Having a stone chip repair is the most simple and cost effective way to deal with a damaged windscreen. Leaving a chip can result in the damage expanding and ultimately requiring your windscreen to be replaced. We specialise in window screen repairs, not windscreen replacements, so you can be sure we will give you accurate and honest advice on the best way to repair your damaged windscreen.
Most of the car windscreen repairs we carry out are covered by your car insurance, but even if you don't have cover for car glass repairs as part of your policy, we offer competitive private rates for car windscreen repairs.
All of the windscreen chip repairs we undertake are completed to the highest quality, and come with a lifetime guarantee that provides cover for as long as you own the car. We are confident in the work we do and make sure our repairs are made to last.
Drop in to see me. Use the
search
below to find out where I'll be.
Find your nearest
windscreen repair location
Use Optic-Kleer for your windscreen repair
Reliable

Our trained operators repair your windscreen while you shop.

Great Value

Windscreen chip repair from as little as £48.00. Depending on who your insurer is we could repair your windscreen for FREE!

Convenient

Over 300 locations nationwide with a repair taking as little as 20 minutes to complete.
Learn more
Lifetime warranty
Your Optic-Kleer® Warranty covers your windscreen chip repair for as long as you own the vehicle.
You no longer need to validate your repair online. Your invoice is sufficient proof should you ever need to make a claim.
Learn more