Windscreen
Repair
Plymouth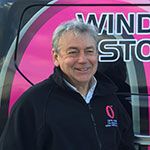 Merv Myers,
Optic-Kleer Operator
For windscreen repair at Liskeard, Newquay, Plymouth, and Ivybridge, please search to see my diary
Morrisons Liskeard

Plymouth Road,
Liskeard,
PL14 3PR

Morrisons Newquay

Treloggan Road,
Newquay,
TR7 2JQ

Morrisons Plymstock

Billacombe Road, Plymstock,
Plymouth,
PL9 7BH

Lee Mill Services

Lee Mill Bridge,
Ivybridge,
PL21 9EE

Sainsbury's Plymouth

Plymouth Road, Crabtree,
Crabtree, Plymouth,
PL3 6RL

Sainsbury's Plymouth

Armada Centre, Mayflower Street,
Mayflower Street, Plymouth,
PL1 1LE

Homebase

Marsh Mills Business Park,
Longbridge Road, Plymouth,
PL6 8LX

The Bubble Retail Park

Plymouth Road,
Liskeard,
PL14 1LE
Hello, my name is Merv.
Hi, I am Merv Myers have been operating an Optic-Kleer Franchise since 2011. I offer a windscreen chip repair service to customer across Devon and Cornwall, including Plymouth, Torbay, South Hams, West Devon and parts of Cornwall.
The service is available 7 days a week by appointment or at selected supermarkets and retail parks across Devon & Cornwall. The service is very convenient and requires no disruption to a customers' daily activities as we will either come to you and repair or arrange for you to come to a location where we will be working. If you have a damaged windscreen or need a stone chip repair then contact the specialists who will carry out your windscreen repair to the highest standards.

The cost of your windscreen chip repair is usually paid for in part or in full by your motor insurance policy, so why wait, as the chip can only potentially spread further and if an MOT is due could fail.

If you have don't have cover for a windscreen repair, we can still repair at a minimal charge.

Optic-Kleer are specialists in car windscreen repairs (we don't fit or replace windscreens) this means you can keep your original windscreen intact which was probably supplied by the manufacturer rather than replacing the screen seals and the potential problems that may occur.
Once the glass repair has been completed we provide a windscreen lifetime vehicle ownership warranty.
To find out where you can get your window screen repaired in the Devon and Cornwall area and my contact details ,simply pop in your postcode and vehicle registration number in are very easy to use search facility.
I am a fully trained technician and am able to advise you whether your windscreen is repairable or not. I can even tell you whether your insurance policy covers windscreen repairs.
Drop in to see me. Use the
search
below to find out where I'll be.
Find your nearest
windscreen repair location
Use Optic-Kleer for your windscreen repair
Reliable

Our trained operators repair your windscreen while you shop.

Great Value

A windscreen repair is cheaper than the excess for a windscreen replacement. However, you're welcome to use your insurance, where your excess can be as little as £10.

Convenient

Over 300 locations nationwide with a repair taking as little as 20 minutes to complete.
Learn more
Lifetime warranty
Your Optic-Kleer® Warranty covers your windscreen chip repair for as long as you own the vehicle.
You no longer need to validate your repair online. Your invoice is sufficient proof should you ever need to make a claim.
Learn more